We live in a condo complex and we can't have a clothesline. Maybe someday clotheslines will be allowed everywhere again. If I could have one, I would use it!
As I have said before we moved into our condo four months ago. Just like every other homeowner we have a list of "To Do Projects". We haven't even started working on ours. We have hired a handyman to come and tackle some of our remodeling projects while we are on vacation in two weeks. This means I have some prep work to do for him. Without further ado, I'm adding Tackle it Tuesday to my household task list. I want to thank
Bren at Pieces From Me
for inspiring me to take on Tackle it Tuesday.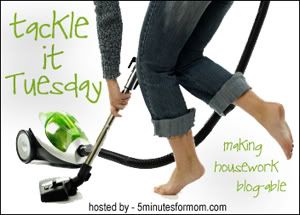 Here is my first Tackle it Tuesday project. This is the closet/pantry in our kitchen. I hate it. It's hard to get to the shelves because the doors open in front of them. The shelves are too tall so there is not nearly enough shelf space for everything that goes in a pantry. I don't think the builder put any thought into the closet when it was put in. Our handyman is going to build me a new pantry with better shelves and storage space for brooms and the mop. My job is to clean it out and get the walls painted before he starts construction.
I got the shelves cleaned off. I knew there were two screws on the top shelf that hold the shelves to the wall. I thought if I could out those screws the shelves could be moved. Well, I was wrong. I got the shelves cleaned out and the screws undone. However, the bottom of the shelves seem to be caulked or glued to the baseboard on the sides of the closet. I'll have to wait for DH to help me remove the baseboards so I can paint it to match the kitchen (also on my To Do list).
Tuesdays are Guys Night Out for DH so I'm home alone all day until late in the evening. Now that my household tasks are done for the day I can play with fabric and thread and not feel guilty!! Hooray!